Behind the 'Green' fence
Green Square. Haven't heard of it? Well, according to Sydney Mayor Clover Moore its Australia's biggest urban renewal project. You know that vacant site on the way to the airport that seems like it's been fenced off and covered in signage forever…. well here is what is going on behind that mysterious fencing.
Green Square is the name given to a 280 hectare precinct located 3.5km south of the Sydney CBD, this includes the suburbs of Beaconsfield and Zetland, and parts of Rosebery, Alexandria and Waterloo (see map of the development area below). The $8 billion project involves transforming former industrial land into a vibrant and sustainable urban environment that will be home to 40,000 residents.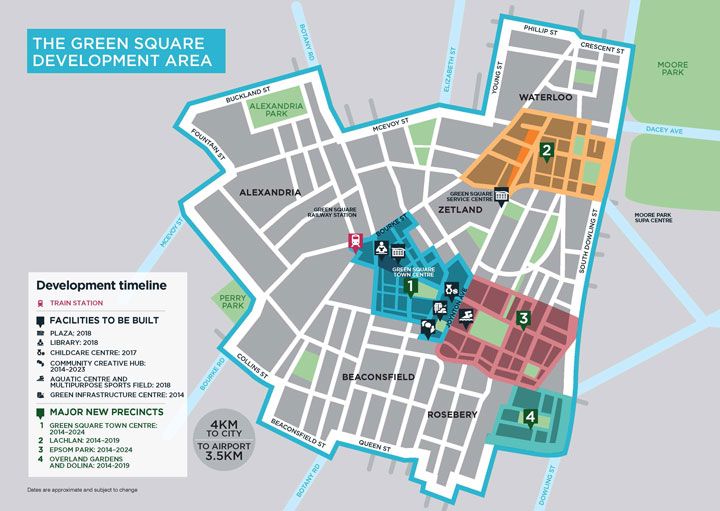 Three property developers, Leighton, Mirvac and Landcom are working with the City of Sydney to drive the project over the next 20 years, adding office buildings, retail, residential properties and a range of community facilities to the area. The development promises innovative housing design, bespoke business and retail, and creative and engaged communities.
The Green Square project has been presented as a game-changer by the development consortium which is looking to anchor the area around a 'cultural hub' – its new town centre.
They boast the town centre will be completed in just a few years, when typically such a task would evolve over decades. But is this a good thing? Isn't it the evolution of a centre that gives it its culture and unique identity? Shouldn't this growth be organic and led by the people who reside there and users of the space? How successful has the manufacturing of a centre been in the past (Docklands anyone?).
Reservations aside, Green Square is focusing on high-quality design and creating a welcoming, exciting and connected neighbourhood. The renewal is built on the ideals of green living, with recycled water, efficient uses of energy, parks, gardens and entertainment spots with cycle and walking routes.
Most recently Koichi Takada Architects have released the details of a mixed-use, multi-residential development at the gateway to the town centre (see pic). The 20 storey tower will accommodate 416 residential apartments and 5,000 square metres of retail and restaurant space. This is one of approximately 1,500 development applications for Green Square, including a new library, a public plaza and an aquatic centre and sports park. That is a lot of DAs! Hopefully the City of Sydney can cope with this influx of applications and not cause costly hold ups for developers.
So it turns out there is some exciting stuff going on behind the fences – we can't wait for the grand reveal.
Banner image source: Koichi Takada Architects